Monopoly The game which has brought together and torn apart families and friends for years. A game that taught many of us how to invest, how an investment works, and for some of us the first properties we ever owned! If you are anything like me, then Monopoly will still be a nostalgic part of family life. Many late nights have become early mornings whilst trying to rule Mayfair and Park Lane! This Life-sized just took the competitive edge to a new level!
On the 21st of December 2022, the members of team Truuli came together to see who is really the best at one of the best games to ever be invented. Who really knows how to buy a brilliant location like "Saville Row" and who will owe rent on "St Pancras Station"? It is fair to say, this 'life-sized' version took the competitive edge to a new level.
Upon entrance, we were greeted by friendly staff, who rather smartly, pointed us to the bar whilst we awaited our time to be briefed before the game started. Whilst the majority of us enjoyed our cocktails and Tequila shots, which warmed us up from the cold weather, one member of the team decided he wanted to stay teetotal in an attempt to gain an edge.
The briefing got us ready and explained the rules which were slightly different to some of the "made up" rules that have developed over the years and focused more on your intelligence and physical side of things. The giant dice, life-size title deed cards, giant pieces (including the battleship and duck!) and bold-coloured signage of the roads brought back so many memories and we all couldn't help but smile in awe at the setup.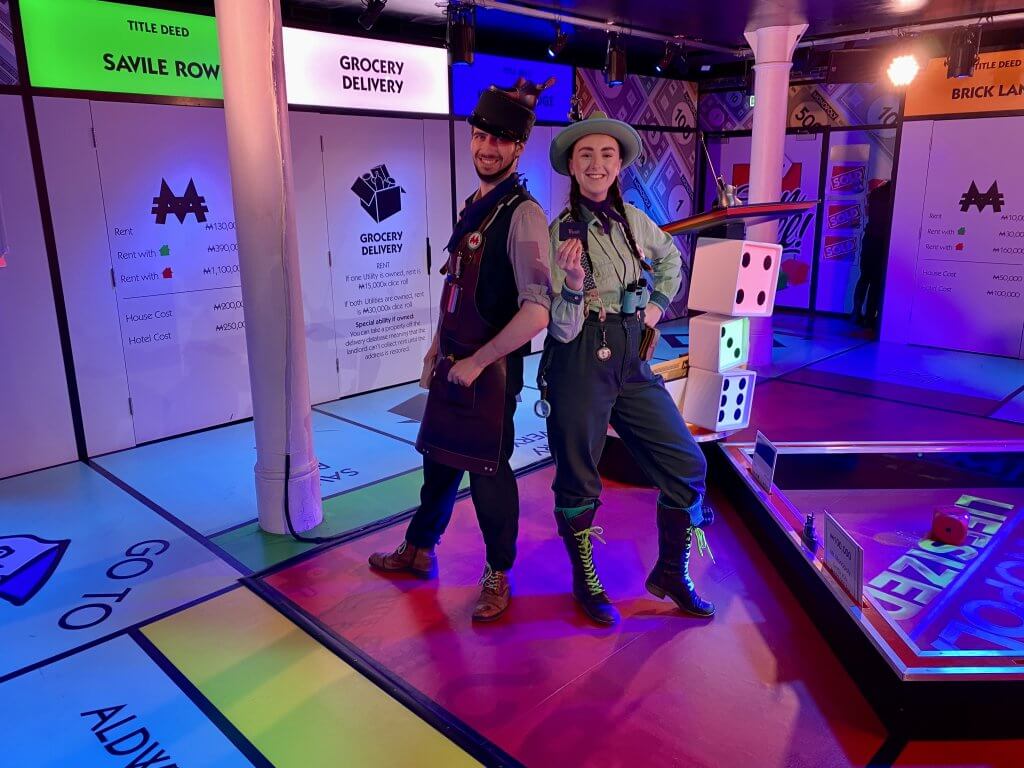 We were split into two teams; "Truuli Towers" and my team, "Truuli the best" – such creative minds we are! The game requires you to work in your teams within your dedicated roles (Team Captain, Banker, Dice roller, Builder and Estate Agent). Each of our dedicated roles had a part to play. Being the lead builder required me to build a 3D puzzle of either a House or a Hotel…it sounds easier than it is, trust me! Each property landed on had a task within a room, similar to Crystal maze, requiring teams to complete together successfully in order to gain ownership over that property.
Both of our teams were pitted against Team Bosna, who was visiting as a family, which meant the crown would surely be heading to either of the Truuli teams. Unfortunately, we quickly learnt that sometimes it really is just about taking part. Well done, Team Bonsa
The actors who managed the evening were true to their characters and delivered an exceptional performance. Enthusiastic, funny, and very engaging. Be sure once the game has finished and seize the opportunity to take pictures and explore the gift shops, which offer a range of novelty gifts and memorabilia. I can say we had a blast and I would recommend anyone who loves the board game to take a trip down 'Life-Sized Monopoly. It certainly got our seal of approval.
Matthew Keddo – Truuli Property Expert