Croydon is located on the edge of London, making it a great place to stay if you're looking for easy access to the city Centre without paying high accommodation prices. With plenty of places to eat and drink, plus numerous activities, Croydon is a vibrant and diverse area with something for everyone. Let's take a closer look at what this amazing borough has to offer.
Places To Eat and Drink in Croydon
When it comes to food and drink, Croydon has plenty of unique options. The Boxpark pop-up offers international street food from all over the world, while BRGR&BEER serves up delicious burgers. McDermott's has award-winning fish & chips, Green Dragon offers craft beer and entertainment, and The Oval Tavern hosts live music events. There is also the Builders Arms which was named the 2018 Borough Pub of the Year by CAMRA.
Things To Do in Your Free Time
If you're looking for something fun to do in your free time in Croydon, there are plenty of options available! Matthews Yard is a great place to visit; there's a theatre, art gallery, restaurant and more. Lean Cinema shows arthouse films, as well as hosts regular events such as Q&As with directors or actors who have featured in the films being showcased. Music lovers can check out the Food & Music Festival which celebrates street food and local bands annually or Butterfly Effect which specializes in drum & bass /garage music.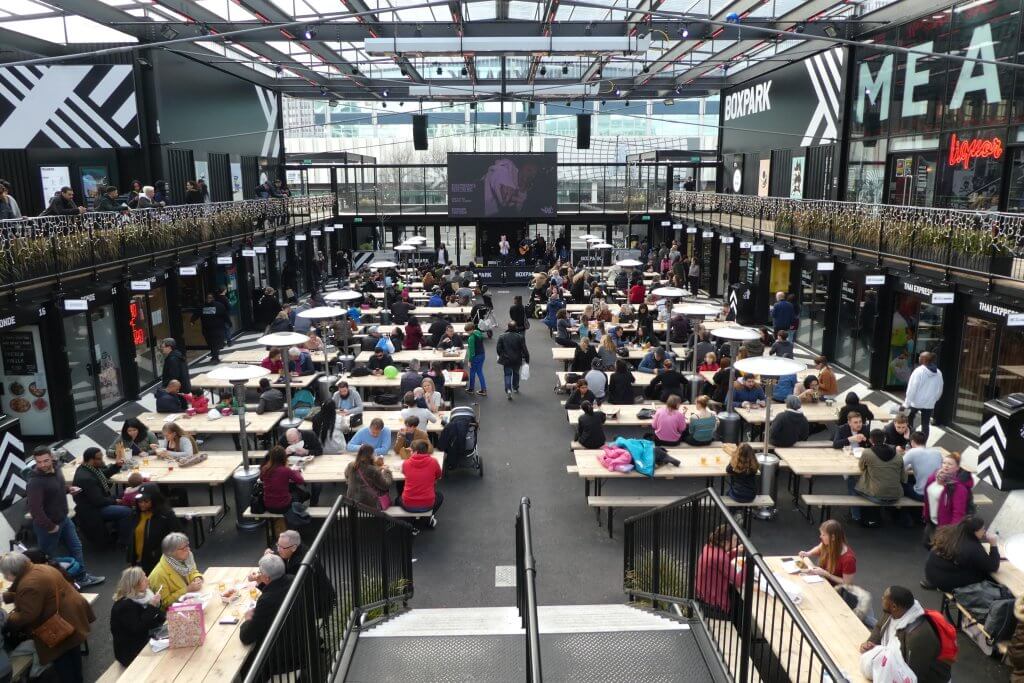 In recent years, Croydon has become increasingly known as a hub for insurance and financial services companies. AIG, American Express, Zurich, Liverpool Victoria and Goldman Sachs all have offices here, and the city has the potential to become a new sort of urban Centre with workers living in high-rise apartment blocks and walking to work in nearby high-rise office buildings. While some may see this as a step towards an impersonal, corporate-controlled cityscape, others believe that it could be an exciting opportunity to create a more efficient and sustainable way of life. Whatever the outcome, it is clear that Croydon is poised to undergo a major transformation in the coming years.
After a three-year, £42 million restoration, Fairfield Halls reopened its doors to the public. Often described as the "Festival Hall of the south," the venue was originally built in 1962 but had fallen into disrepair in recent years. It reopened with a bang, hosting the only UK performances of the musical Angela's Ashes, based on Frank McCourt's book about his Limerick childhood. In addition, the foyer features a photographic exhibition celebrating the Windrush generation. Visitors are thrilled with the venue's new look and are looking forward to seeing more world-class performers grace its stage in the years to come.
Property Market in Croydon
Of the wide range of homes in Croydon, the priciest is the large detached houses with big gardens in Shirley, south of the town Centre. According to Rightmove, the most expensive house for sale now is Bishops Walk in the popular Shirley Hills area, a newly built six-bedroom 8,000sq ft home with a 1-acre garden, priced at £4,250,000. In second place is a five-bedroom house in Shirley Hills Road adjacent to the Addington Palace and world-renowned Addington golf courses east of the town Centre, priced at £3 million. These roads largely contain detached Arts and Crafts-inspired houses.
Moving away from stately mansions, Park Hill, southeast of the town Centre between Barclay Road and Coombe Road, is an estate of Sixties and Seventies Wates-built houses in walking distance of East Croydon station. A three-storey, three-bedroom townhouse here is for sale with an asking price of £550,000. Park Hill also contains the St Bernard's conservation area; 21 locally listed houses on a wooded, hilly site by Swiss architects Atelier 5. The Waldrons conservation area southwest of the Centre has a crescent of early Victorian villas – one of which was home to Cicely Mary Barker, author of the Flower Fairy books. The majority of the big detached Edwardian and Victorian houses in the Chatsworth Road and East India Estate conservation areas have been divided into flats; however, a seven-bedroom Edwardian semi in Outram Road is for sale at £875,000 as a development opportunity.
In conclusion, if you're looking for a luxurious property in Croydon with all the bells and whistles then you'll likely find it on Shirley or Whitgift Foundation roads. However, if you're on a more modest budget then there are still many lovely areas containing housing developments from different eras throughout Croydon's history.
New Build Homes
London Square Croydon is a stunning new development located next to West Croydon station. It offers 108 high-end private apartments, ranging from one, two and three-bedroom units. With its landmark tower, these stylish homes have been designed with flexible layouts, featuring contemporary finishes with private winter gardens. Residents of London Square Croydon are spoilt with the wide range of amenities available at their doorstep. An inviting public square welcomes visitors, complete with ground floor shops, cafés and restaurants that add to the vibrant atmosphere. From here, residents can enjoy views of Croydon's skyline as well as London's skyline from the top of the tower; what could be more inspiring? Inside the apartment complex, there is also a chic residents' lounge which is equipped with Wi-Fi and leads out onto one of three communal landscaped terraces; perfect for outdoor gatherings or relaxing in peace and quiet after a busy day.
Prices start from £358,000
First-time buyer and shared-ownership homes
Aspect Croydon offers a stunning range of luxury 1, 2 and 3-bedroom apartments with the added benefit of Shared Ownership. Inside, you will find full-height windows and winter gardens offering ever-changing views and natural light to flood through the space. The modern bathrooms and kitchens come flawlessly fitted with integrated appliances and light wood features throughout. To complete this deluxe experience, residents have access to a concierge within an impressive entrance lobby featuring flexible mezzanine communal space. You won't find higher standards elsewhere in Croydon – Aspect is the ultimate living experience.
Renting
Looking for rental accommodation doesn't have to leave you skimping on quality. Period conversion flats starting at £1300 a month for one-bedroom homes and £1,600 for two bedrooms offer modern luxury right in the heart of the city. Or, alternatively, Saffron Square provide spectacularly designed flats starting at £1,175 a month for one bedroom and £1,575 for two bedrooms. But if you're looking for an even more lavish setup Ten Degrees offers 44 floors of premium apartment rentals with bespoke furniture, SMEG kitchen appliances, built-in wardrobes and city views all from just £1,450 a month for a one-bedroom flat. From apartments to penthouses there's something to suit every budget and lifestyle.
Transport
Commuters in and around the London Borough of Croydon have been pushing for their local train stations to be brought into Zone 4. East, West and South Croydon are all connected and offer a variety of services. East Croydon provides access to London Bridge in 16 minutes, Victoria in 21 minutes, Blackfriars in 21 minutes on Thameslink and St Pancras within 30 minutes, as well as Gatwick Airport in only 15 minutes. From West Croydon, there is access to London Bridge in 18 minutes and 33 minutes to Victoria. Additionally, there's an Overground line where commuters can reach Shoreditch High Street and Canada Water – just one stop away from Canary Wharf. Annual travel card costs up to £2,628. Tramlink serves outlying areas of the borough that connect to East and west Croydon station hubs.
Postcodes
Croydon is covered by the large postcode area of CR0. Starting in the heart of Croydon town Centre and extending as far out as Shirley, this postcode uniquely identifies many different areas in the local vicinity. South Croydon is not included in CR0 though – it's part of the smaller but equally important CR2 postcode area.
Open spaces
Croydon is fortunate to have access to plenty of open space for people to explore and enjoy. Wandle Park provides four hectares of town Centre parkland, as well as tranquil visits along the river it contains. Park Hill Recreation Ground offers a walled garden, tennis courts, and playground in addition to its water tower. Lloyd Park, east of the town Centre, features a café, outdoor gym and bowling green. Beyond Croydon's borders lies the London Loop Walk among Addington Hills. Croydon is also blessed with four golf courses: Shirley Park; Croham Hurst; Addington Palace and De Vere Selsdon Estate.
Schools
Croydon is home to the Whitgift Foundation, established by John Whitgift in 1596 and still exerting influence today. The foundation runs three private schools within Croydon as well as being a major landlord: Old Palace of John Whitgift (girls), Whitgift School (boys) and Trinity (co-ed). In addition, Croydon boasts many state schools while nearby Sutton offers three grammar school options ranging from "outstanding" level – Wallington County Boys' School and Wilson's Boy's School at Mollison Drive and Wallington High (girls,) in Woodcote Road which is judged to be "good"
Primary schools
Outstanding primary schools provide parents with a wealth of choice in St Mary's RC Infants Primary School adjoined by its good-rated Junior school counterpart; Chestnut Park and Heathfield have also achieved outstanding praise. Similarly joined together is Park Hill Infants accompanied by its "good" rated junior sibling on Stanhope Road for busy families in the Croydon area alike. Finally, two Harris Primaries are set next door to one another – Purley Way (Propeller Crescent) & Haling Park (Hailing Street).
Secondary Schools
Croydon offers a range of fantastic secondary schools for parents to choose from. Among them is the outstanding comprehensive Harris Invictus located in London Road, home to students aged 11-18. There are also five additional "good" rated comprehensives reaching as far south as Purley: St Mary's Catholic High School, Archbishop Tenison's CofE Academy, The BRIT performing arts and technology school (renowned for producing musical moguls Adele and Amy Winehouse), Thomas More RC College and The Archbishop Lanfranc academy — all offering quality education opportunities until age 16 or 18 respectively! Last but not least Oasis Shirley Park accommodates learners between 3 and 18 years. With such an array of possibilities, residents can confidently guarantee they're enrolling youngsters into suitable educational establishments across Croydon borough.
Ark Blake Academy
In September 2020, Ark Blake Academy opened its doors to welcome the inaugural class of Year 7 pupils. Utilizing state-of-the-art amenities such as a 3G sports pitch on the rooftop and an array of music facilities including a recording studio – this new Addiscombe school is set up perfectly for students to get creative with their studies! Alongside these great resources, they also have access to a four-court sports hall, dance studio, outdoor playground and drama suite – giving every student ample opportunity for development in whatever area interests them most.
Private schools
Elmhurst and Cumnor House offer boys aged two to thirteen the unique opportunity for a first-class private school education. Elmhurst is situated on South Park Hill Road whilst Cumnor can be found on Pampisford Road, both providing diverse learning opportunities that yield outstanding results.
The Cedars, a boys' school for ages 11 to 18; Royal Russell, a co-ed establishment with programs ranging from 3 years old up until secondary level; and Coloma Convent RC Girls School which caters to female students aged 11-18.
Further education
Croydon Metropolitan College in South End and Cambridge Tutors on Water Tower Hill offer a wealth of educational opportunities to both resident and international students, seeking advanced qualifications such as GCSEs and A-levels. On top of this local option stands Croydon College (co-ed ages 16 to 18) in College Road for further education options suitable for all students striving for success.
Croydon offers something for everyone – whether you're looking for somewhere to eat or drink or something fun to do in your free time! With its vibrant atmosphere, diverse culture and excellent transport links into London city Centre, it makes an ideal base for exploring both London itself and also all that Croydon has to offer too!