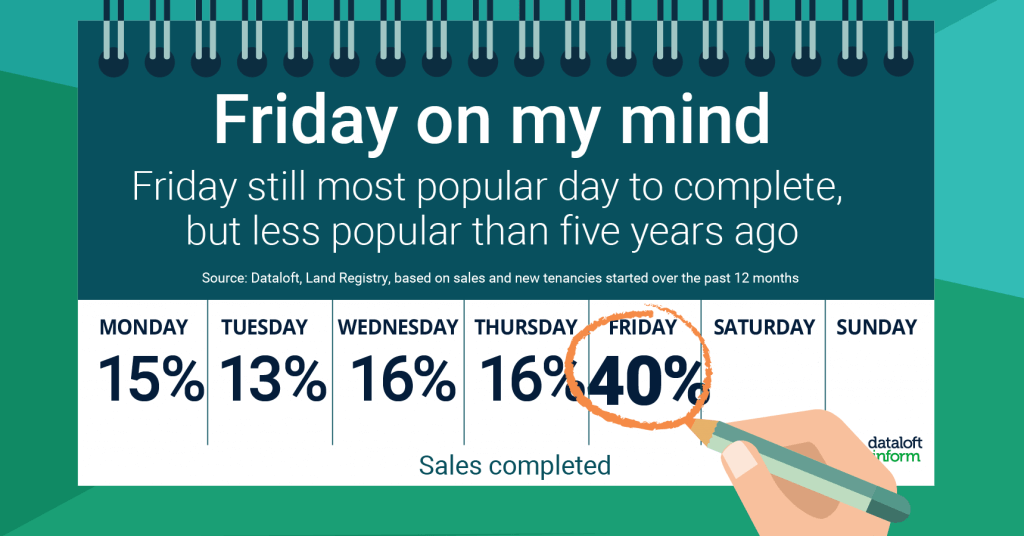 Friday remains the most popular day to complete a house purchase or start a new rental tenancy agreement. 40% of all property sales over the past year have been completed on a Friday and a quarter of new rental tenancies were started.
While this may come as no surprise, the proportion of sales completed on a Friday is lower than five years ago when the figure was 48%. This past year has however seen Christmas Eve, New Year's Eve and the Queen's Platinum Jubilee Bank Holiday fall on a Friday.
With finance transfers less of an issue in the rental market, 20% of new tenancies have started on a weekend
10% of all new tenancies started over the past year have been on just ten specific dates in the year. These dates all correspond with either the start or the end of a month. Source: Dataloft, DRMA, Land Registry, based on sales and new tenancies started over the past 12 months
A companion infographic is available in the infographic library on tenancy start days (lettings)
In my 17 years of estate agency, I have never really thought about the day property transactions were completed. However, if I think back over the last few years, and then look at the completions we've had, I can see that the vast majority have happened on a Friday. This makes complete sense, as in general, updates on sales are harder to obtain on a Friday as solicitors are usually dealing with completions.

Having taken the time to think about completion days. I believe most purchasers are likely to prefer a Friday completion as it leads into the weekend, where they are most likely to be off work, providing ample time to unpack and settle into their new home. 
If you are thinking of renting or selling your home, please feel to contact the sales or lettings team on 0330 043 0002. We'd love to help facilitate your move on any day of the week that suits you.  

Leigh Thomas – Truuli Property Expert