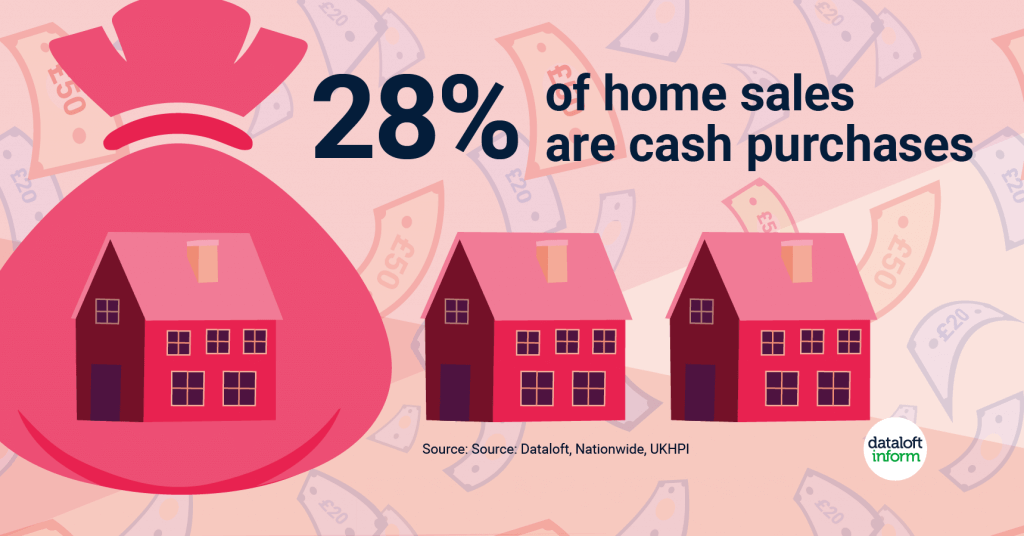 At £14bn the value of unspent paper £20 and £50 notes equates to the equivalent of over 50,000 average priced homes. After the 30th September 2022 paper £20 and £50 notes will no longer be legal tender in the UK. At the last count, the Bank of England estimated there were over 460 million unspent paper notes, over £6bn unspent in £20s and £8bn in £50s. Each month around 28% of all sales in England and Wales are cash purchases. In 2021, cash sales account for more than 1 in 3 property purchases in the South West and less than 1 in five in London. The average price of a property purchased with cash is, on average, 8%-9% less than the average price of a property purchased with a mortgage. Source: Dataloft, Nationwide, UKHPI, Bank of England.
There are many different types of cash purchasers. A large majority are developers who are looking to purchase and then sell a property straightaway. There are also cash purchasers who are seeking to purchase a home to live in, either through selling a former home, being fortunate enough to have managed to save or those who have received inheritance money. I'm not sure if I've sold a property to a lottery winner as yet.

When I started my career as an estate agent I was always told that cash is key. Cash purchasers were given precedence over purchasers who were required to obtain a mortgage. However, in my personal experience, I have found that someone purchasing a property for the sole purpose of making money tends to be less dedicated to the purchase, thus increasing the potential of an aborted sale. Furthermore, local searches within the Croydon Borough are taking about three weeks to come back and with the efficiency of the mortgage advisors we work with buyers would have their mortgage offer either in hand or close to being available. So unless a cash buyer is going to emit searches and proceed to exchange of contracts the mortgage buyer has a more sentimental and financial commitment to the transaction. With that said, I do believe it is best to judge every new potential purchaser on their own individual merit, ensuring the best possible outcome for the seller.

Ryan Morgan – Truuli Property Expert
At Truuli, we are happy to help all types of purchasers, regardless of how they plan to finance the purchase of their home or next property investment. Please feel free to call one of our local Property Experts for a discussion about purchasing or selling your home, on 0330 043 0002.